Product Code: MRR-62667ADF9F50
The Polyamide Market is projected to reach USD 69.35 billion by 2030 from USD 43.90 billion in 2022, at a CAGR of 5.88% during the forecast period.
Global Polyamide Market
KEY MARKET STATISTICS
Base Year [2022]
USD 43.90 billion
Estimated Year [2023]
USD 46.39 billion
Forecast Year [2030]
USD 69.35 billion
CAGR (%)
5.88%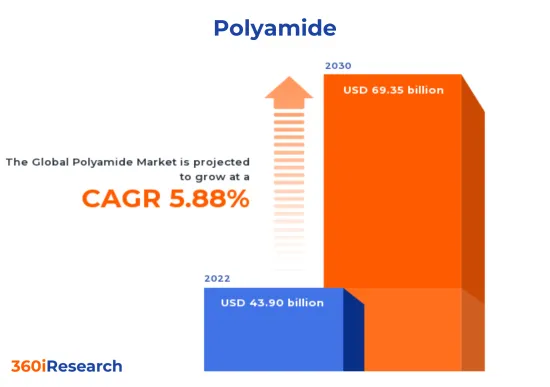 Market Segmentation & Coverage:
This research report analyzes various sub-markets, forecasts revenues, and examines emerging trends in each category to provide a comprehensive outlook on the Polyamide Market.
Based on Product, market is studied across Aliphatic Polyamides and Aromatic Polyamides. The Aliphatic Polyamides is further studied across Polyamide 11, Polyamide 12, Polyamide 6, and Polyamide 66. The Aromatic Polyamides is further studied across Aramid and Polyphthalamide. The Aliphatic Polyamides commanded largest market share of 85.88% in 2022, followed by Aromatic Polyamides.
Based on Type, market is studied across Bio-Based and Conventional. The Conventional commanded largest market share of 89.68% in 2022, followed by Bio-Based.
Based on End-User Industries, market is studied across Automotive, Consumer Goods & Appliances, Electrical & Electronics, Packaging, and Textile & Carpets. The Automotive commanded largest market share of 51.86% in 2022, followed by Consumer Goods & Appliances.
Based on Region, market is studied across Americas, Asia-Pacific, and Europe, Middle East & Africa. The Americas is further studied across Argentina, Brazil, Canada, Mexico, and United States. The United States is further studied across California, Florida, Illinois, New York, Ohio, Pennsylvania, and Texas. The Asia-Pacific is further studied across Australia, China, India, Indonesia, Japan, Malaysia, Philippines, Singapore, South Korea, Taiwan, Thailand, and Vietnam. The Europe, Middle East & Africa is further studied across Denmark, Egypt, Finland, France, Germany, Israel, Italy, Netherlands, Nigeria, Norway, Poland, Qatar, Russia, Saudi Arabia, South Africa, Spain, Sweden, Switzerland, Turkey, United Arab Emirates, and United Kingdom. The Asia-Pacific commanded largest market share of 36.14% in 2022, followed by Europe, Middle East & Africa.
Market Statistics:
The report provides market sizing and forecasts across 7 major currencies - USD, EUR, JPY, GBP, AUD, CAD, and CHF; multiple currency support helps organization leaders to make well-informed decisions. In this report, 2018 to 2021 are considered as historical years, 2022 is base year, 2023 is estimated year, and years from 2024 to 2030 are considered as forecast period.
FPNV Positioning Matrix:
The FPNV Positioning Matrix is an indispensable tool for assessing the Polyamide Market. It comprehensively evaluates vendors, analyzing key metrics related to Business Strategy and Product Satisfaction. This enables users to make informed decisions tailored to their specific needs. Through advanced analysis, vendors are categorized into four distinct quadrants, each representing a different level of success: Forefront (F), Pathfinder (P), Niche (N), or Vital (V). Be assured that this insightful framework empowers decision-makers to navigate the market with confidence.
Market Share Analysis:
The Market Share Analysis offers invaluable insights into the vendor landscape Polyamide Market. By evaluating their impact on overall revenue, customer base, and other key metrics, we provide companies with a comprehensive understanding of their performance and the competitive environment they confront. This analysis also uncovers the level of competition in terms of market share acquisition, fragmentation, dominance, and industry consolidation during the study period.
Key Company Profiles:
The report delves into recent significant developments in the Polyamide Market, highlighting leading vendors and their innovative profiles. These include AdvanSix Inc., Aramid Hpm, LLC, Arkema Group, Asahi Kasei Corporation, Ascend Performance Materials Operations LLC, Avient Corporation, BASF SE, Beaulieu International Group N.V., Celanese Corporation, China National Bluestar (Group) Co, Ltd., DOMO Chemicals GmbH, DuPont de Nemours, Inc., EMS Group, Envalior GmbH, Evonik Industries AG, FUJIFILM Corporation, Gujarat State Fertilizers & Chemicals Limited, Huntsman Corporation, Huvis Corp., Hyosung Group, Koch Industries, Inc., Kolon Industries, Inc., Kuraray Co., Ltd., Lydall, Inc., Merck KGaA, Mitsubishi Gas Chemical Company Inc., Mitsui Chemicals, Inc., Radici Partecipazioni S.p.A., Roboze S.p.A., Royal DSM, Shanghai J&S New Materials Co.,ltd, Sinopec Corp., Sumitomo Chemical Co., Ltd., Taekwang Industrial Co., Ltd., Teijin Limited, Toray Industries, Inc., TOYOBO MC Corporation, UBE Corporation, X-FIPER New Material Co., Ltd., and Yantai Tayho Advanced Materials Co.,Ltd..
The report offers valuable insights on the following aspects:
1. Market Penetration: It provides comprehensive information about key players' market dynamics and offerings.
2. Market Development: In-depth analysis of emerging markets and penetration across mature market segments, highlighting lucrative opportunities.
3. Market Diversification: Detailed information about new product launches, untapped geographies, recent developments, and investments.
4. Competitive Assessment & Intelligence: Exhaustive assessment of market shares, strategies, products, certifications, regulatory approvals, patent landscape, and manufacturing capabilities of leading players.
5. Product Development & Innovation: Intelligent insights on future technologies, R&D activities, and breakthrough product developments.
The report addresses key questions such as:
1. What is the market size and forecast for the Polyamide Market?
2. Which products, segments, applications, and areas hold the highest investment potential in the Polyamide Market?
3. What is the competitive strategic window for identifying opportunities in the Polyamide Market?
4. What are the latest technology trends and regulatory frameworks in the Polyamide Market?
5. What is the market share of the leading vendors in the Polyamide Market?
6. Which modes and strategic moves are suitable for entering the Polyamide Market?
Table of Contents
1. Preface
1.1. Objectives of the Study
1.2. Market Segmentation & Coverage
1.3. Years Considered for the Study
1.4. Currency & Pricing
1.5. Language
1.6. Limitations
1.7. Assumptions
1.8. Stakeholders
2. Research Methodology
2.1. Define: Research Objective
2.2. Determine: Research Design
2.3. Prepare: Research Instrument
2.4. Collect: Data Source
2.5. Analyze: Data Interpretation
2.6. Formulate: Data Verification
2.7. Publish: Research Report
2.8. Repeat: Report Update
3. Executive Summary
4. Market Overview
4.1. Introduction
4.2. Polyamide Market, by Region
5. Market Insights
5.1. Market Dynamics

5.1.1. Drivers

5.1.1.1. Growing need for high-performance components in aerospace, automotive, and military applications
5.1.1.2. Rising utilization of flexible packaging across various industries

5.1.2. Restraints

5.1.2.1. Fluctuation in raw material prices of polyamides

5.1.3. Opportunities

5.1.3.1. Rising research & development to develop bio-based polyamides
5.1.3.2. Expanding the applications of polyamides across 5G and wearable devices

5.1.4. Challenges

5.1.4.1. Water absorption and shrinkage issues with polyamides

5.2. Market Segmentation Analysis

5.2.1. Product: Growing demand for aliphatic polyamides for superior moisture absorption properties at a lower cost
5.2.2. Type: Significant adoption of bio-based polyamides due to their environmental benefits
5.2.3. End-User Industries: Increasing utilization in the automotive and consumer goods & appliances industries due to their extensive application scope

5.3. Market Trend Analysis

5.3.1. Well-established supply chain of polyimide with significant production capabilities across Americas
5.3.2. Growing consumption and production of polyamide with availability of raw materials in the Asia-Pacific region
5.3.3. Growing emphasis on recyclable and bio-based polyamide coupled with robust presence of major chemical companies in the EMEA region

5.4. Cumulative Impact of High Inflation
5.5. Porter's Five Forces Analysis

5.5.1. Threat of New Entrants
5.5.2. Threat of Substitutes
5.5.3. Bargaining Power of Customers
5.5.4. Bargaining Power of Suppliers
5.5.5. Industry Rivalry

5.6. Value Chain & Critical Path Analysis
5.7. Regulatory Framework
6. Polyamide Market, by Product
6.1. Introduction
6.2. Aliphatic Polyamides

6.3.1. Polyamide 11
6.3.2. Polyamide 12
6.3.3. Polyamide 6
6.3.4. Polyamide 66

6.3. Aromatic Polyamides

6.4.1. Aramid
6.4.2. Polyphthalamide
7. Polyamide Market, by Type
7.1. Introduction
7.2. Bio-Based
7.3. Conventional
8. Polyamide Market, by End-User Industries
8.1. Introduction
8.2. Automotive
8.3. Consumer Goods & Appliances
8.4. Electrical & Electronics
8.5. Packaging
8.6. Textile & Carpets
9. Americas Polyamide Market
9.1. Introduction
9.2. Argentina
9.3. Brazil
9.4. Canada
9.5. Mexico
9.6. United States
10. Asia-Pacific Polyamide Market
10.1. Introduction
10.2. Australia
10.3. China
10.4. India
10.5. Indonesia
10.6. Japan
10.7. Malaysia
10.8. Philippines
10.9. Singapore
10.10. South Korea
10.11. Taiwan
10.12. Thailand
10.13. Vietnam
11. Europe, Middle East & Africa Polyamide Market
11.1. Introduction
11.2. Denmark
11.3. Egypt
11.4. Finland
11.5. France
11.6. Germany
11.7. Israel
11.8. Italy
11.9. Netherlands
11.10. Nigeria
11.11. Norway
11.12. Poland
11.13. Qatar
11.14. Russia
11.15. Saudi Arabia
11.16. South Africa
11.17. Spain
11.18. Sweden
11.19. Switzerland
11.20. Turkey
11.21. United Arab Emirates
11.22. United Kingdom
12. Competitive Landscape
12.1. FPNV Positioning Matrix
12.2. Market Share Analysis, By Key Player
12.3. Competitive Scenario Analysis, By Key Player

12.3.1. Merger & Acquisition

12.3.1.1. Ascend Agrees to Acquire Formulated Polymers Ltd.
12.3.1.2. Basf Expands Its Offering Of Polyamides and Polyphthalamides in Europe by Acquisition of Solvay's Polyamide Business

12.3.2. Agreement, Collaboration, & Partnership

12.3.2.1. NILIT & BASF Create Biobased Polyamide From Waste
12.3.2.2. BASF and StePac Partner to Develop Sustainable Packaging for Shelf-Life Extension of Fresh Produce

12.3.3. New Product Launch & Enhancement

12.3.3.1. Evonik Launches PA12 Powder for 3D Printing Based on Bio-Circular Raw Material
12.3.3.2. UBE Launches FDA-Approved Nylon For Advanced and More Sustainable Packaging Solution
12.3.3.3. Arkema Announces the Launch of a New Line of Recycled High Performance Polyamides.
12.3.3.4. Partnership Excellence that Drives Domo's Sustainable Polyamide Solutions
12.3.3.5. Toray Invents 100% Bio-Based Adipic Acid from Sugars Derived from Inedible Biomass, Scaling Up for Application to Eco-Friendly Nylon 66
12.3.3.6. Avient Launches Nymax BIO Low Water Absorption and Bio-Based Polyamides

12.3.4. Investment & Funding

12.3.4.1. BASF Announces Investments in HMD and PA 6.6

12.3.5. Award, Recognition, & Expansion

12.3.5.1. Radicigroup Inaugurates New Production Plant in India
12.3.5.2. Kolon Industries to Double Output of High-Strength Aramid Fibers
13. Competitive Portfolio
13.1. Key Company Profiles

13.1.1. AdvanSix Inc.
13.1.2. Aramid Hpm, LLC
13.1.3. Arkema Group
13.1.4. Asahi Kasei Corporation
13.1.5. Ascend Performance Materials Operations LLC
13.1.6. Avient Corporation
13.1.7. BASF SE
13.1.8. Beaulieu International Group N.V.
13.1.9. Celanese Corporation
13.1.10. China National Bluestar (Group) Co, Ltd.
13.1.11. DOMO Chemicals GmbH
13.1.12. DuPont de Nemours, Inc.
13.1.13. EMS Group
13.1.14. Envalior GmbH
13.1.15. Evonik Industries AG
13.1.16. FUJIFILM Corporation
13.1.17. Gujarat State Fertilizers & Chemicals Limited
13.1.18. Huntsman Corporation
13.1.19. Huvis Corp.
13.1.20. Hyosung Group
13.1.21. Koch Industries, Inc.
13.1.22. Kolon Industries, Inc.
13.1.23. Kuraray Co., Ltd.
13.1.24. Lydall, Inc.
13.1.25. Merck KGaA
13.1.26. Mitsubishi Gas Chemical Company Inc.
13.1.27. Mitsui Chemicals, Inc.
13.1.28. Radici Partecipazioni S.p.A.
13.1.29. Roboze S.p.A.
13.1.30. Royal DSM
13.1.31. Shanghai J&S New Materials Co.,ltd
13.1.32. Sinopec Corp.
13.1.33. Sumitomo Chemical Co., Ltd.
13.1.34. Taekwang Industrial Co., Ltd.
13.1.35. Teijin Limited
13.1.36. Toray Industries, Inc.
13.1.37. TOYOBO MC Corporation
13.1.38. UBE Corporation
13.1.39. X-FIPER New Material Co., Ltd.
13.1.40. Yantai Tayho Advanced Materials Co.,Ltd.

13.2. Key Product Portfolio
14. Appendix
14.1. Discussion Guide
14.2. License & Pricing