Product Code: MRR-961BA04A2E37
The Hemostats Market is projected to reach USD 4.75 billion by 2030 from USD 3.05 billion in 2022, at a CAGR of 5.67% during the forecast period.
Global Hemostats Market
KEY MARKET STATISTICS
Base Year [2022]
USD 3.05 billion
Estimated Year [2023]
USD 3.23 billion
Forecast Year [2030]
USD 4.75 billion
CAGR (%)
5.67%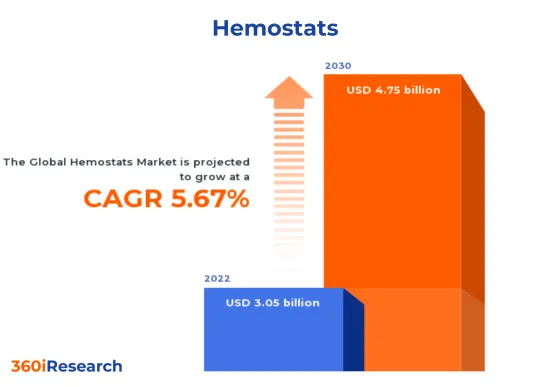 Market Segmentation & Coverage:
This research report analyzes various sub-markets, forecasts revenues, and examines emerging trends in each category to provide a comprehensive outlook on the Hemostats Market.
Based on Type, market is studied across Collagen-Based Hemostats, Combination Hemostats, Gelatin-Based Hemostats, Oxidized Regenerated Cellulose-Based Hemostats, and Thrombin-Based Hemostats. The Collagen-Based Hemostats commanded largest market share of 24.22% in 2022, followed by Gelatin-Based Hemostats.
Based on Formulation, market is studied across Matrix & Gel Hemostats, Powder Hemostats, Sheet & Pad Hemostats, and Sponge Hemostats. The Sponge Hemostats commanded largest market share of 27.43% in 2022, followed by Sheet & Pad Hemostats.
Based on Application, market is studied across Cardiovascular Surgery, General Surgery, Gynecological Surgery, Neurological Surgery, Orthopedic Surgery, and Reconstructive Surgery. The Cardiovascular Surgery commanded largest market share of 23.25% in 2022, followed by Gynecological Surgery.
Based on Region, market is studied across Americas, Asia-Pacific, and Europe, Middle East & Africa. The Americas is further studied across Argentina, Brazil, Canada, Mexico, and United States. The United States is further studied across California, Florida, Illinois, New York, Ohio, Pennsylvania, and Texas. The Asia-Pacific is further studied across Australia, China, India, Indonesia, Japan, Malaysia, Philippines, Singapore, South Korea, Taiwan, Thailand, and Vietnam. The Europe, Middle East & Africa is further studied across Denmark, Egypt, Finland, France, Germany, Israel, Italy, Netherlands, Nigeria, Norway, Poland, Qatar, Russia, Saudi Arabia, South Africa, Spain, Sweden, Switzerland, Turkey, United Arab Emirates, and United Kingdom. The Americas commanded largest market share of 39.52% in 2022, followed by Europe, Middle East & Africa.
Market Statistics:
The report provides market sizing and forecasts across 7 major currencies - USD, EUR, JPY, GBP, AUD, CAD, and CHF; multiple currency support helps organization leaders to make well-informed decisions. In this report, 2018 to 2021 are considered as historical years, 2022 is base year, 2023 is estimated year, and years from 2024 to 2030 are considered as forecast period.
FPNV Positioning Matrix:
The FPNV Positioning Matrix is an indispensable tool for assessing the Hemostats Market. It comprehensively evaluates vendors, analyzing key metrics related to Business Strategy and Product Satisfaction. This enables users to make informed decisions tailored to their specific needs. Through advanced analysis, vendors are categorized into four distinct quadrants, each representing a different level of success: Forefront (F), Pathfinder (P), Niche (N), or Vital (V). Be assured that this insightful framework empowers decision-makers to navigate the market with confidence.
Market Share Analysis:
The Market Share Analysis offers invaluable insights into the vendor landscape Hemostats Market. By evaluating their impact on overall revenue, customer base, and other key metrics, we provide companies with a comprehensive understanding of their performance and the competitive environment they confront. This analysis also uncovers the level of competition in terms of market share acquisition, fragmentation, dominance, and industry consolidation during the study period.
Key Company Profiles:
The report delves into recent significant developments in the Hemostats Market, highlighting leading vendors and their innovative profiles. These include A.R. Medicom, Inc., ACTEON Group, Advamedica Inc., Advanced Medical Solutions Group PLC, Advin Health Care, Aegis Lifesciences Private Limited, Argon Medical Devices, B. Braun SE, Baxter International Inc., Becton, Dickinson and Company, Betatech Medical, Convatec Group PLC, Cook Group Incorporated, Cortis Medtech Pvt Ltd, Cotran Corporation, Dolphin Sutures by Futura Surgicare Pvt. Ltd., Dynarex Corporation, Gelita AG, Hangzhou Singclean Medical Products Co.,Ltd., Healthium Medtech Ltd, Hemostasis, LLC, Integra LifeSciences Holdings Corporation, Johnson & Johnson Services, Inc., Medcura, Inc., Medline Industries, LP, Medprin Biotech GmbH, Medtronic PLC, Meril Life Sciences Pvt. Ltd., Olympus Corporation, Pfizer Inc., Rousselot BV by Darling Ingredients International Holding B.V., Royal DSM, Shilpa Medicare Limited, Stapleline Medizintechnik GmbH, Stryker Corporation, SYMATESE, Teleflex Incorporated, Terumo Corporation, Zhejiang Perfectseal New Material Technology Co., Ltd., and Zimmer Biomet Holdings, Inc..
The report offers valuable insights on the following aspects:
1. Market Penetration: It provides comprehensive information about key players' market dynamics and offerings.
2. Market Development: In-depth analysis of emerging markets and penetration across mature market segments, highlighting lucrative opportunities.
3. Market Diversification: Detailed information about new product launches, untapped geographies, recent developments, and investments.
4. Competitive Assessment & Intelligence: Exhaustive assessment of market shares, strategies, products, certifications, regulatory approvals, patent landscape, and manufacturing capabilities of leading players.
5. Product Development & Innovation: Intelligent insights on future technologies, R&D activities, and breakthrough product developments.
The report addresses key questions such as:
1. What is the market size and forecast for the Hemostats Market?
2. Which products, segments, applications, and areas hold the highest investment potential in the Hemostats Market?
3. What is the competitive strategic window for identifying opportunities in the Hemostats Market?
4. What are the latest technology trends and regulatory frameworks in the Hemostats Market?
5. What is the market share of the leading vendors in the Hemostats Market?
6. Which modes and strategic moves are suitable for entering the Hemostats Market?
Table of Contents
1. Preface
1.1. Objectives of the Study
1.2. Market Segmentation & Coverage
1.3. Years Considered for the Study
1.4. Currency & Pricing
1.5. Language
1.6. Limitations
1.7. Assumptions
1.8. Stakeholders
2. Research Methodology
2.1. Define: Research Objective
2.2. Determine: Research Design
2.3. Prepare: Research Instrument
2.4. Collect: Data Source
2.5. Analyze: Data Interpretation
2.6. Formulate: Data Verification
2.7. Publish: Research Report
2.8. Repeat: Report Update
3. Executive Summary
4. Market Overview
4.1. Introduction
4.2. Hemostats Market, by Region
5. Market Insights
5.1. Market Dynamics

5.1.1. Drivers

5.1.1.1. Prevalence of chronic disorders with increasing need for surgical interventions
5.1.1.2. Growing inclination toward minimally invasive surgeries

5.1.2. Restraints

5.1.2.1. Rising incidences of product recalls

5.1.3. Opportunities

5.1.3.1. Rise of biopolymer-based disposable hemostats
5.1.3.2. Integration of nanotechnology to create more efficient and targeted hemostats

5.1.4. Challenges

5.1.4.1. Risk of infection and cross contamination associated with the use of hemostats tools and reagents

5.2. Market Segmentation Analysis

5.2.1. Type: Expanding the use of combination hemostats owing to their enhanced effectiveness in minimizing bleeding
5.2.2. Formulation: Growing potential of powder hemostats for controlling and preventing bleeding during surgical intervention
5.2.3. Application: Significant role of hemostats in cardiovascular surgeries to prevent blood loss and ensure successful outcomes

5.3. Market Trend Analysis

5.3.1. Robust and improving healthcare infrastructure and availability of improved hemostats in the Americas region
5.3.2. Acceleration of medical tourism and expanding healthcare infrastructure with growing investment by the government in the Asia-Pacific
5.3.3. Increase in number of medical tourists coupled with strong foothold of major healthcare companies in the EMEA region

5.4. Cumulative Impact of High Inflation
5.5. Porter's Five Forces Analysis

5.5.1. Threat of New Entrants
5.5.2. Threat of Substitutes
5.5.3. Bargaining Power of Customers
5.5.4. Bargaining Power of Suppliers
5.5.5. Industry Rivalry

5.6. Value Chain & Critical Path Analysis
5.7. Regulatory Framework
6. Hemostats Market, by Type
6.1. Introduction
6.2. Collagen-Based Hemostats
6.3. Combination Hemostats
6.4. Gelatin-Based Hemostats
6.5. Oxidized Regenerated Cellulose-Based Hemostats
6.6. Thrombin-Based Hemostats
7. Hemostats Market, by Formulation
7.1. Introduction
7.2. Matrix & Gel Hemostats
7.3. Powder Hemostats
7.4. Sheet & Pad Hemostats
7.5. Sponge Hemostats
8. Hemostats Market, by Application
8.1. Introduction
8.2. Cardiovascular Surgery
8.3. General Surgery
8.4. Gynecological Surgery
8.5. Neurological Surgery
8.6. Orthopedic Surgery
8.7. Reconstructive Surgery
9. Americas Hemostats Market
9.1. Introduction
9.2. Argentina
9.3. Brazil
9.4. Canada
9.5. Mexico
9.6. United States
10. Asia-Pacific Hemostats Market
10.1. Introduction
10.2. Australia
10.3. China
10.4. India
10.5. Indonesia
10.6. Japan
10.7. Malaysia
10.8. Philippines
10.9. Singapore
10.10. South Korea
10.11. Taiwan
10.12. Thailand
10.13. Vietnam
11. Europe, Middle East & Africa Hemostats Market
11.1. Introduction
11.2. Denmark
11.3. Egypt
11.4. Finland
11.5. France
11.6. Germany
11.7. Israel
11.8. Italy
11.9. Netherlands
11.10. Nigeria
11.11. Norway
11.12. Poland
11.13. Qatar
11.14. Russia
11.15. Saudi Arabia
11.16. South Africa
11.17. Spain
11.18. Sweden
11.19. Switzerland
11.20. Turkey
11.21. United Arab Emirates
11.22. United Kingdom
12. Competitive Landscape
12.1. FPNV Positioning Matrix
12.2. Market Share Analysis, By Key Player
12.3. Competitive Scenario Analysis, By Key Player

12.3.1. Merger & Acquisition

12.3.1.1. Darling Ingredients Completes Acquisition of Brazilian Gelatin and Collagen Producer Gelnex
12.3.1.2. Hemostasis LLC Closes Acquisition of Fiagon Medical Technologies

12.3.2. New Product Launch & Enhancement

12.3.2.1. Baxter Launches PERCLOT Absorbable Hemostatic Powder
12.3.2.2. Olympus Europa SE & Co. KG Expands Endoclot Partnership with Endoclot to Launch Hemostatic Agents

12.3.3. Award, Recognition, & Expansion

12.3.3.1. Teleflex Receives FDA Clearance for Expanded Indication for QuikClot Control+ Hemostatic Device Usage in Cardiac Surgical Procedures
12.3.3.2. Artivion Gains FDA Approval for PerClot, Starts Transfer to Baxter
12.3.3.3. Chitosan-Based Hemostat For Controlling Severe Surgical Bleeding Gets FDA Clearance
12.3.3.4. Advamedica Inc Announces FDA Clearance for Ax-Surgi Surgical Hemostat
12.3.3.5. Medcura, Inc. Receives Breakthrough Device Designation for its LifeGel Absorbable Surgical Hemostat
12.3.3.6. Medtronic plc Nexpowder Endoscopic Hemostasis System Receives U.S. FDA Clearance
13. Competitive Portfolio
13.1. Key Company Profiles

13.1.1. A.R. Medicom, Inc.
13.1.2. ACTEON Group
13.1.3. Advamedica Inc.
13.1.4. Advanced Medical Solutions Group PLC
13.1.5. Advin Health Care
13.1.6. Aegis Lifesciences Private Limited
13.1.7. Argon Medical Devices
13.1.8. B. Braun SE
13.1.9. Baxter International Inc.
13.1.10. Becton, Dickinson and Company
13.1.11. Betatech Medical
13.1.12. Convatec Group PLC
13.1.13. Cook Group Incorporated
13.1.14. Cortis Medtech Pvt Ltd
13.1.15. Cotran Corporation
13.1.16. Dolphin Sutures by Futura Surgicare Pvt. Ltd.
13.1.17. Dynarex Corporation
13.1.18. Gelita AG
13.1.19. Hangzhou Singclean Medical Products Co.,Ltd.
13.1.20. Healthium Medtech Ltd
13.1.21. Hemostasis, LLC
13.1.22. Integra LifeSciences Holdings Corporation
13.1.23. Johnson & Johnson Services, Inc.
13.1.24. Medcura, Inc.
13.1.25. Medline Industries, LP
13.1.26. Medprin Biotech GmbH
13.1.27. Medtronic PLC
13.1.28. Meril Life Sciences Pvt. Ltd.
13.1.29. Olympus Corporation
13.1.30. Pfizer Inc.
13.1.31. Rousselot BV by Darling Ingredients International Holding B.V.
13.1.32. Royal DSM
13.1.33. Shilpa Medicare Limited
13.1.34. Stapleline Medizintechnik GmbH
13.1.35. Stryker Corporation
13.1.36. SYMATESE
13.1.37. Teleflex Incorporated
13.1.38. Terumo Corporation
13.1.39. Zhejiang Perfectseal New Material Technology Co., Ltd.
13.1.40. Zimmer Biomet Holdings, Inc.

13.2. Key Product Portfolio
14. Appendix
14.1. Discussion Guide
14.2. License & Pricing